PRAGUE - YOUTH
He was born in Prague on the 21st of July 1948 with the name Jan Zahradník. The communist leaders at that time didn't give him permission to study art and so he went to study to be a potter. He painted his first oil paintings at the age of 11, at 17 he created his first paintings based in an imaginary dreamlike world.
ITALY
At the end of August 1968, he is leaving for Italy to gather experience at a potter's workshop Ceramica C. Morelli in Bellaria (Rimini). This proved to be extremely fortunate, as his stay was organised in advance and 1968 was a particularly "hot" year from the point of view of Czech politics and leaving the country just a few days later would have been impossible. In Italy, he spends his free time painting and exhibiting his first paintings. Then, his Czech friends summon him to Switzerland where they are already settled and so the young artist goes to join them.
SWITZERLAND - LUCERNE 1968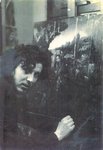 Young Reon and St. Christopher
At the bold age of twenty, he decides to dedicate his time to the studies that were previously denied to him. Great luck brings him to a villa by Lake Lucerne - the place of work of Kunstrestaurator Georges Eckert, who takes the young artist under his wing. There, the most intense education begins, as the young painter explores the technique of the old masters. Among the paintings he restored is St. Christopher by Hieronymus Bosch. This also marks the time of the first conception of Reon and his dreamland Argondia.
In the spring of 1969, Reon goes into isolation to concentrate on his first intensive period of painting, which peeks by his first public exhibition in September, sparking real interest and many purchase offers.
MONACO - "MONTE CARLO" GALLERY
By the end of 1969, accompanied by his new manager, he accepts an invitation to come to the highly esteemed "Galerie de Monte Carlo" in Palais du Scala. There, he makes connections with higher society, and the media response to his work opens new doors for him, gaining him invitations to galleries in Brussels.
ROQUEBRUNE-CAP-MARTIN 1970
Reon chooses the village of the medieval castle Roquebrune for is next dedicated painting time. The blossoming gardens give his paintings new, brighter colours, but the main motive of the Legend of Argondia remains unchanged.
THE FOREST OF QUENECAN IN BRITTANY 1971 - 1995
...